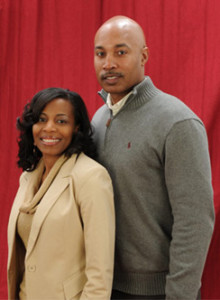 Charles and Tia Allen have been successfully helping people buy and sell real estate in the CSRA for a combined 28 years. Charles was born in Augusta, GA. The couple graduated from Mercer University in Macon, GA where they met and have been inseparable since 1992. After graduating in 1995, they pursued their careers in Mechanical engineering for Charles and special education for Tia. They will celebrate 18 years of marriage this year and have two beautiful daughters, Savannah and Lia.
They made their first real estate purchase shortly out of college and it was from this point they recognized that real estate would be a major part of their lives. Charles realized early on the importance of trying to diversify your wealth portfolio. He believes that you should have multiple avenues of accruing wealth. Retirement savings such as a 401k is necessary but real estate investing is yet another avenue to consider. Because real estate investing is important to them, they take it very seriously. This is why it is priority for them to help their clients make sound real estate investment purchases.
Charles and Tia have a wealth of real estate experience and have always been a best-selling realtor team and pace setters here in the CSRA.
Charles and Tia Allen